*OK, so click on the pics to see the full pics, my computers all types of funky today!!*
Two exciting mail adventures in 24 hours. First, the arrival of my pre-ordered Twilight before it was even available in stores...woohoo! Happy surprise! And then, this morning, the arrival of a thank you note. About two weeks ago, I sent a thank you note to Dr Gomez, my Maternal Fetal high risk specialist. It commemorated our anniversary of the first fetal surgery for Matthew. It was at that meeting that I told him to do everything he could do for my son. God would decide if he lived or not, but I wasn't going to make that an easy decision for Him! I loved Dr Gomez, more than any of the other doctors I saw at the practice...and whenever possible we would make sure we were all teamed up together for the procedures that followed the four surgeries he did.
Here is a picture of me with my earthly miracle worker...yes, I'm short...but he really is THAT tall!
In my note to him, I simply said thank you for doing all you could do for me and Matthew and enclosed an updated picture since he hadn't seen Matthew since around Christmas time when we dropped in. They really are a family to me there and I keep in contact via phone and email to many of the people there. It's not often that your doctor actually gives you his personal cell phone number too!
I had been expecting an email from one of the girls or something that they got my letter and "oh how cute Matthew is"...cause secretly (not so secretly) that's what all mom's want to hear. ;) But I know where near expected a letter...let alone from a busy doctor. When we have talked it's always been a quick catch up of Matthew's progress and then he's off to help another mommy to be out. Some of the girls have told me that there is now an unusually high number of PUV babies from all over the state. 6 cases since we have been "discharged" from care. I knew of one of those. Doctor Gomez, with my permission, has given my contact info to those women that wanted to talk about the diagnosis, but I didn't know there were so many more! And I didn't know my small part in there care.
Dr. Gomez told me in his letter that it should be him thanking me. For me pushing him to not give up the fight. Telling him that I am having a baby, a tiny person with a soul that is already loved before he arrives. He said I inspired him when I kept "raising the bar" in patient/doctor relations. He came to realize that his cases were people/families...not numbers and statistics. He already had my permission to write up about all the surgeries (4 in total) and procedures (23 total taps and infusions), but decided against it in order to advocate about patient rights and treatment. Because of our history and relationship, he has been able to save 5 out of the 6 PUV baby cases that have come to him. He took it on as a personal mission of his own to keep the mothers motivated with things got rough and to push for lung development with infusions and steroids.
None of their cases were as severe as Matthew's...and in all respect to "science" Matthew shouldn't be here, but he is. Because of this man that did everything I asked him to do. All this time, when anyone asks about Matthew I naturally give thanks to God, but never fail to mention Dr Gomez as well. It seems he's be doing the same thing. In his words, "without your fighting spirit, infectious laughter and the complete love you had for Matthew, I would have given up on you both. You didn't let me." This is the man that opened his office hours to us at 6am for an infusion when normal hours began at 8:30am, but he wouldn't be in that day and wanted to make sure things were done right! He has used "what I learned from our experience" to fight for those other babies...because of Matthew...those little ones have made it through the hardest part, being born alive.
It just really touched me that Dr Gomez took the time to sit down and hand write a letter, not email...not type it up...handwritten. It shocks me that he thinks so highly of me when I look back and see that I did nothing spectacular...I just fought for my son's chance...what parent doesn't? But it made me realize that maybe I did do something...I crossed the patient/doctor line. I made him get to know me as a person, not a patient. I made him care about Matthew. I shared his name, my feelings and thoughts with him. I told him Matthew's music preference and when we were done with an infusion, Dr Gomez would put on the Rolling Stones just to watch Matthew dance in utero! He visited my child at another hospital to say a prayer for him while he was in the NICU. But with all of that, I was just being me.
So once again i want to give a shout out to Dr Gomez and thank God for bringing him in our lives. It takes quite a man to throw credit to a hormonally challenged woman and it speaks that much higher if that man is a nationally published and recognized doctor in fetal surgery. I don't think I deserve his kind words and praise, but those other babies did deserve the right to life. And I'm so thankful he was their doctor too.
Matthew, one week old, 32 weeks gestation. First day starting peritoneal dialysis.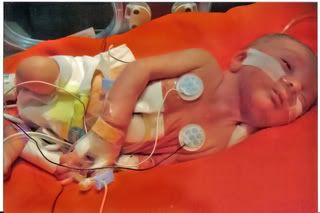 Matthew, 8 months old (6 month corrected)