I'm off in a couple of days, for a couple of days, to see my "sister". She is a sister by bond, not blood...which actually I think makes the love stronger because it was by choice (and not just your parents feeling horny)! I haven't seen her since Dec 2006 when William was 10 months old. I miss her SO much! We still talk every day on the phone and by email as well...and myspace and facebook and shutterfly and our personal websites. But it's just not the same as in person.
As I was leaving my active duty military wife persona behind, she was just jumping in with both feet. Her hubby is in the airforce and they are stationed just outside of Shreveport LA. So, that is were I am heading. That is pretty neat in itself. I've been all the way up north into Canada and all the way south to Miami, but never been further west than Montgomery or Birmingham AL...don't have a map in front of me, so I'm not sure which is further out! I get to see the mighty Mississippi!! Exciting...I love to sight see.
My little sis is a remarkable woman, not only does she have great instincts (she introduced me to my husband), she has a great heart and is an all around great friend! She never lets the little things go by. Even if it is just a call to say I'm thinking of you when I was going through the torture of all of my taps and infusions (see blog from last March through May) or sending books to my older son for Christmas or his birthday. She makes a mean lasagna and we wear the same size clothes which is great for borrowing for those special occasions.
We've only "known" each other for about 10 years, but it seems like she's been part of my life forever and always will be. I just can't contain my excitement of seeing her and her little (big) pregnant body! This is the BEST part...she is pregnant with TWINS! Twin boys!! How exciting for her. She is gaining and growing and working full time and doesn't complain...which is more than can be said for MANY pregnant women out there. She's a tough cookie that has had her share of heartache, but has always bounced back stronger and with more determination to see things through.
I'll be on my way in less than 48 hours...EEEEEEEEEEEE...I can't wait!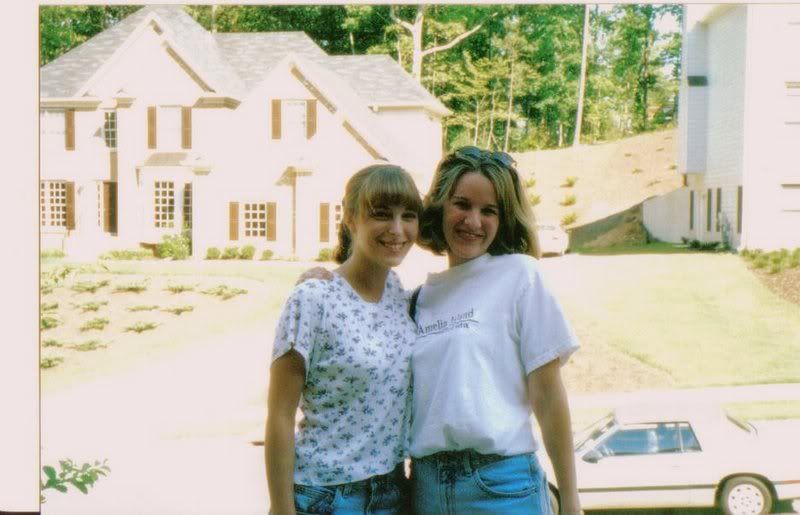 This is us when we were youngin's in college.