Elizabeth was kind enough to lend me this idea of posting snapshots of my life (past and present) on Saturdays or Sundays while little man is napping. Since tomorrow we will be getting ready for our big trip to Zoo Atlanta (I'm about to pee in my pants from the excitement!!) I figured I'd post these today.
These three pictures were taken back in late Decemeber 2005. I was nearly 8 months pregnant with my first son. Me, my hubby,my mother, my then 10 year old niece and my then 8 year old nephew all traveled the hour and a half length drive to Pine Mountain GA. A quaint little town located in the southwest corner of Georgia in between the cities of LaGrange and Columbus (I was born in Columbus - we're a family of army brats). But the reason to visit the small southern town, besides the friendly folks of course, is Callaway Gardens.
http://www.callawaygardens.com/
Take a look at the link if you have time today or tomorrow. It has SO much to offer! We try to make it down there at least twice a year. Once in the Spring/Summer and again around Christmas. We go when the weather is nice so we can rent bikes, walk trails and lounge at Robin Lake with icecream. But we go back in the winter for Fantasy in Lights! It's breath-taking!
Without further ado...here are the snapshots of my trip to Callaway that year.
Ian and I at the horticulture center. They decorate this up for every season...but my favorites decorations are the all dried flowers Christmas tree and the all Poinsettia Christmas tree (which we are standing by). Both are about 20 ft tall and beautiful. Plus they have holly, roses, amaryllis and paperwhites in full bloom.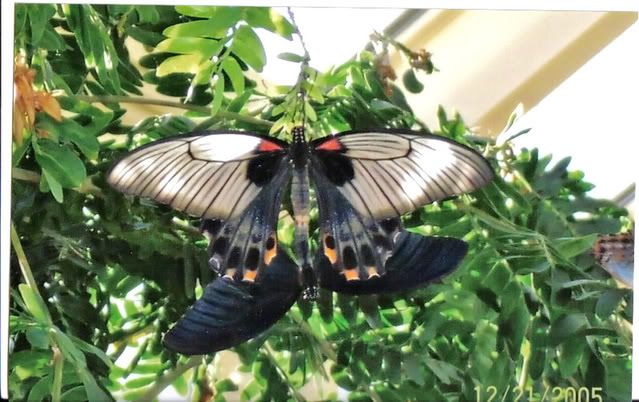 One of our most favorite places to visit at Callaway is the butterfly house. They have 100's of species through out the world flying free when you enter the glass doors. Wear red or purple and many will land directly on you! I have one picture of Ian when a butterfly landed on his mouth and started to feed from the moisture on them. Talk about butterfly kisses! I'll have to find that photo!! They also have glass "houses" were butterflies are emerging from cocoons. You can see them slowly break through the barrier and stretch out their wings to warm them. Then they fly out through the top once they are dry and hungry. As you can see...it looks like some new catepillars are on their way. I guess we should go ahead and give them a little privacy... ;)
And after a full day at all the different sights (and southern restaurants!) it is time for Fantasy in Lights!! A drive thru holiday light experience, and when I say drive thru...I really mean it! Lighted scenes are not just surrounding the sides of your car...they are over your car too! Ian and I always have to pop our heads out of the window to really get the full immersion experience. I feel like a kid everytime I'm there. Callaway even coordinates appropriate Christmas music with each scene too. It's wonderful. My favorites scenes...there are many to choose from...include Christmas Garden (the entrance is pictured above), Snowflake Valley, Firefly Cove and of course the Nativity scene that is set up on Robin Lake. You overlook it from the beach, with the water throwing the reflections back at you to make it seem even more magical and grand. Always brings tears to my eyes...
Well, that wraps up this weekends snapshots. Hope you enjoyed your look into a day at Callaway through my eyes.